Image of semi-truck and vehicle damage in huge Texas Thanksgiving car pileup.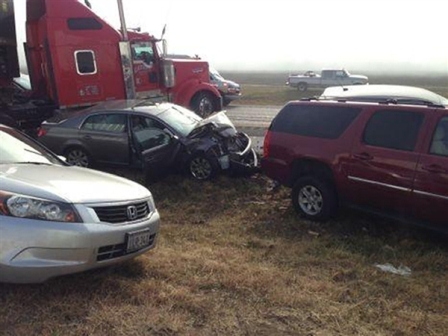 Image of destroyed FedEx delivery trucks, passenger vehicles and a motorhome in Texas 2012 Thanksgiving freeway crash on I-10.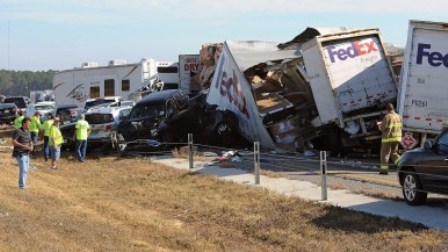 By Jacob Regar
There was a horrendous traffic accident in Texas this Thanksgiving morning on Interstate 10 freeway. A report of a 100-car pileup with 18-wheeler trucks crashed into cars, two people dead and over 100 injured has become the lead news story for today's holiday.
It is not yet known exactly what event set off the massive wreckage. A question remains whether negligence is to blame. But, dense fog and poor traffic visibility seems to be a contributing factor. NBC News stated that amid the catastrophic scene, "two bodies were found under a tractor trailer." NBC News
[Approximately 140 vehicles involved in Thursday, November 22nd Texas freeway accident pileup. Around 90 people taken to the hospital. The two fatalities were a man and a woman crushed in their Chevy Suburban by a large tractor trailer. A single accident in the eastbound lanes set off a chain reaction of collisions. Huff Post THIS IS AN UPDATE. Jacob Regar Law's earlier blog entry is below.]
Thanksgiving holiday is the busiest travel day in the United States. Despite this fact, people take to the roads with hopes of reaching their destination in one piece. For most, Thanksgiving driving proves rather uneventful, save for the extra driving times. But, historically, some vehicle motorists will get in accidents. And tragically, there will be those who suffer the worst fate of all, becoming a traffic fatality.
Today's enormous car pileup highlighted the very best and very worst of the Thanksgiving holiday. Traffic fatalities, big rig crashes, serious injuries, and traffic jams occur every year on U.S. roads during Thanksgiving travel. And, anyone fortunate enough to share this holiday with their friends and family will mourn the loss and suffering of the motorists involved in the Texas 100-car pileup.
Yet, emerging from the carnage, a glimmer of light in the form of human aid shines through. It is being reported that in the immediate aftermath of this gargantuan collision, accident victims, themselves, began helping other injured drivers and passengers. This is the essence of the holiday spirit. It is the good in human nature.
The danger associated with holiday driving is basically unavoidable. But, paying serious attention to the following safety tips can improve your chances of arriving safely to your intended destination.
(1) Drive during off-peak hours if you can
(2) Practice defensive driving
(3) Stay out of semi-trucks' blind spots
(4) Do not drink and drive (use a designated driver)
(5) Avoid driving tired
(6) Take rest breaks if you start zoning off
(7) Keep safe distances from vehicles in front, especially large trucks
As an Encino, CA truck accident attorney I am always aware of the dangers of driving during peak travel times. But, fear of accidents and injury should never stop us from enjoying life and celebrating the good times with our loved ones. As long as we do our part to drive safely we can help each other make the roads a less dangerous place.
That said, because you still must drive home from where you are currently spending your Thanksgiving holiday, and return travel will have heavy traffic, use the tips I shared above to reduce your risk of being involved in a serious traffic accident.
If you are involved in an accident in Los Angeles, San Fernando Valley, including the cities of Encino, Tarzana, Sherman Oaks, Van Nuys, and Woodland Hills, CALL Jacob Regar Law to learn the full scope of your rights. If a negligent driver caused you to be injured and damaged your car, you are entitled to compensation.
FREE consultation. (818) 588-0653
Advertisement pursuant to California Rules of Professional Conduct 1-400.