By Jacob Regar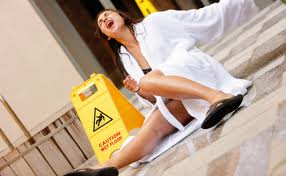 I am excited and very proud to report that on February 6, 2014, a Palm Springs, CA jury returned a fair and just plaintiff's verdict for our clients Mr. and Mrs. L. (full names abbreviated for privacy). This case was handled by my father, Barry Regar's law firm and I associated as co-trial counsel.
In their special verdicts, the jury awarded Mrs. and Mr. L's $389,000.00 plus pre-judgment interest, which computes to approximately $40,000.00 in additional money damages. The defense's top offer prior to trial was $110,000.00. One of the best parts of this excellent trial result is that because the verdict exceeded the amount that we offered for settlement, the defense has to pay for Mr. and Mrs. L's case costs and expert witness expenses.
Mrs. L was injured in September 2009 in a slip and fall accident that occurred in an outdoor patio area of a residential clubhouse. The patio included a planter that was watered by a mister sprinkler system which caused overspray to accumulate on the concrete patio surface. No warnings were posted of this slippery condition. Other patrons had slipped in the same spot on prior occasions. And the club was warned by their own employees prior to our client's fall. They failed to take any corrective measures and one evening when it was getting dark, Mrs. L slipped on the wet surface, causing her to fall forward while her arms and legs went backward and she suffered injury to her neck and back. Mrs. L remembers hearing her back snap and when she hit the ground her breath was knocked out of of her for several minutes.
As a direct result of Mrs. L's injuries, which included damage to some of her spinal nerves and acceleration of the degenerative changes in her back, and her painful symptoms, she experienced difficulty maintaining her prior daily activity levels, including caring her for infant son, keeping up with her household responsibilities, and also engaging in regular marital relations with her husband. Her sleep was greatly affected because of pain in her back, arms and shoulders. Because her sleep was affected, her husband, Mr. L's sleep was also affected and in order to get the rest he needed for his long workdays, he ended up sleeping on the couch outside of the couple's bedroom.
We also represented Mr. L for a very important legal claim called Loss of Consortium which includes damages like loss of society and sexual relations with a spouse. The law places great importance on marriage and it is long established that when a spouse loses the services of their other spouse as a direct result of another person's negligent act, the spouse who suffered loss of consortium can recover those damages from the defendant.
Upon speaking with the jury after the verdict, they stated that they had no problems awarding damages for Mr. L's loss of consortium. On direct exam of Mr. L, the jury heard very sensitive and personal information about his experiences of going through this event with his wife. In was unmistakable to anyone in the courtroom how serious of an impact this accident had on the couple's home life. The evidence showed that for nearly two years after Mrs. L's fall, the couple's sex life was majorly affected. This of course caused a great strain on their marriage.
In what was probably a cathartic momement for Mr. L, during my direct examination of him, he burst into tears on the witness stand when I asked him about the support he received from his wife prior to her fall. This rocked the courtroom; it was a very emotional moment.
The defense's main arguments during trial were 1) Mrs. L failed to mitigate her damages by causing long gaps in her medical treatment and not attending physical therapy as prescribed by her doctors, and 2) she returned to work after undergoing invasive medical pain management procedures.
Needless to say, the jury did not agree with the defense's position. It was our plan during this trial to elicit testimony from our witnesses to explain the reasons for the gaps in Mrs. L's post-accident medical treatment and to support our position that Mrs. L was not faking her injury merely because she chose to return to work as a chef for an elementary school.
The evidence admitted in trial showed Mrs. L was a hard worker and an honest person. Through her employer's testimony, the jury learned that Mrs. L does work long hours but with accommodations for her painful back symptoms.
My father's cross-examination of the defense's medical expert was superb. This doctor is a well-known spine surgeon. He agreed that the fall caused Mrs. L's injuries, but he didn't believe her injuries were very serious. He called them "minor."
The defense and their insurance carrier admitted liability prior to the start of trial, but they vigorously disputed the nature and extent of our clients' harms and losses. One of the themes that we presented in this case was the importance of credibility in a trial. We submitted to the jury that the plaintiffs and their witnesses should be believed. And the story they told with its genuine feel, spoke volumes about Mrs. L's painful neck and back symptoms. As we presented Mr. L's side of the story, the jury was able to see through his eyes, the suffering that his wife endured.
Congratulations to Mr. and Mrs. L for their win. They hung in there for a hard fought trial victory. There were ups and downs along the way. The couple opened up their lives during litigation and trial. Their credibility was unmistakable. Mr. and Mrs. L told us the verdict in court represented vindication of everything that they went through. Our clients waited a long time for their day in court. And when it was all said and done, 12 dedicated and honest jurors made the right decision. This is just an excellent result for two deserving plaintiffs.